Canada is on the list of places with the best ski resorts. The skiing possibilities are endless, with unending snow, heli-skiing opportunities, and exposure to incredible off-piste options.
Canada is a winter wonderland! So don't hesitate to equip your vehicle with the right snow tires to head for the mountains and enjoy some of the best skiing experiences in the world.
With its breathtaking scenery, powdery slopes, and top-notch amenities, Canada is a destination that should be on every skier's bucket list.
We'll help you take advantage of all the thrilling skiing possibilities by unearthing some of the best ski resorts in Canada for your next winter adventure.
You are welcome!
What Makes the Best Ski Resorts in Canada?
Skiing is one of the most exhilarating outdoor activities, and nothing beats the thrill of gliding down a snowy slope with the wind in your face. But this activity isn't just about hitting the slopes but about the overall experience at a ski resort.
So what makes a ski resort great? Let's take a look at some of the critical factors.
Terrain
A great resort needs to have a variety of terrain for skiers of all levels, from beginners to experts. Ideally, it should have groomed runs and challenging terrain for people seeking a more adrenaline-fueled experience. The quality of the snow is also essential; the best resorts have powdery snow that is perfect for skiing.
Amenities
The available amenities may determine the quality of a skiing location. This includes well-maintained lodges, rental equipment, and ski schools for those who want to learn how to ski. Other amenities for premium comfort may consist of restaurants, bars, shops, and spas.
Accessibility
A great ski resort should be easily accessible by car or public transportation. It must have ample parking and shuttle services to transport guests to the slopes.
Atmosphere
The atmosphere of a ski resort is a crucial factor in making it great. A classy resort has a welcoming and friendly atmosphere that makes guests feel at home. This includes staff who are knowledgeable, helpful, and friendly. The overall vibe of the resort should be relaxed, focusing on fun and adventure.
Scenery
The scenery is also essential. A resort should be picturesque, with stunning mountain views and natural beauty. This adds to the overall skiing experience, making it memorable and enjoyable.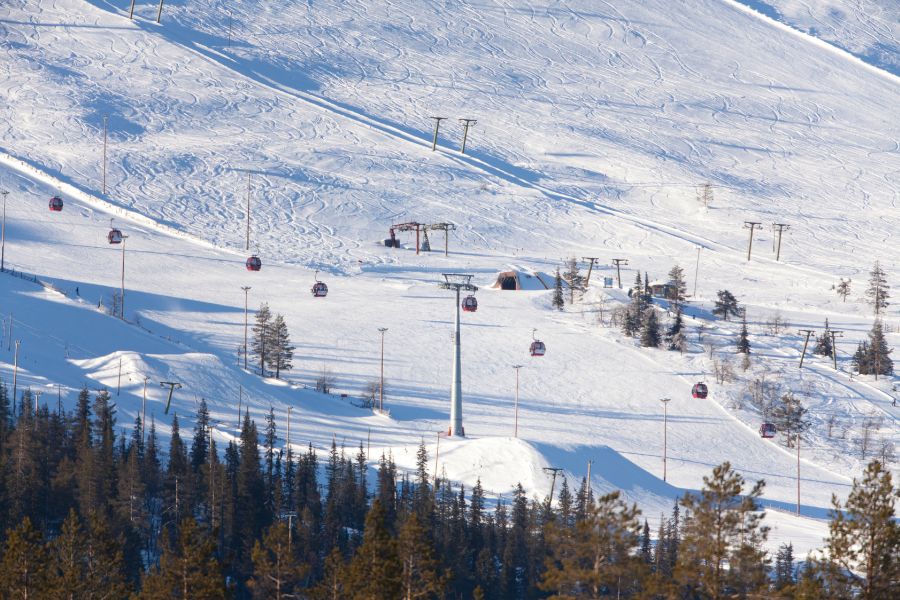 The Top Ski Resorts in Canada
Whistler Blackcomb
Nestled in the heart of British Columbia, Whistler Blackcomb is one of the best ski resorts in Canada. But scrap that; it seamlessly qualifies as one of the best in the world. And snowboarders or skiers worldwide would agree.
It has breathtaking views, diverse terrain, and world-class amenities to cater to a wide range of skills. In addition, Whistler Blackcomb's sheer size is awe-inspiring. With over 8,100 acres of skiable terrain, it is the largest ski resort in North America.
It boasts 16 alpine bowls, three glaciers, and more than 200 marked trails. So, whether you are a world-class skier or a beginner doesn't matter. You can access both extreme terrain and beginner terrain alike.
This resort is also renowned for its impeccable grooming, which keeps the snow pristine. Besides skiing and snowboarding, you can revel in snowshoeing, cross-country skiing, and tobogganing.
As much as it caters to your skiing needs, Whistler also offers upend amenities to make your stay comfortable and enjoyable. It has numerous restaurants and cafes, from casual dining to fine dining, that serve impressive cuisines.
Hence, after a long day on the slopes, you can relax at one of the many spas or enjoy a night at a bar or club. Another highlight of Whistler Blackcomb is its vibrant après-ski scene. The resort has a lively atmosphere and is known for its nightlife.
Mont Tremblant
Mont Tremblant is a world-renowned ski resort in the Laurentian Mountains of Quebec, Canada.
The destination offers a unique blend of European charm and Canadian hospitality, with breathtaking views, diverse terrain, and world-class amenities.
It's equipped with a whooping 102 trails spread over four distinct slopes, catering to skiers of all levels. The mountain has challenging runs, such as the infamous "Expo" course and wide-open groomers for intermediate and beginner skiers. Mont Tremblant's pedestrian village is just as incredible as the trails. This picturesque European-style village has quaint boutiques and various restaurants and bars. So, don't worry, you'd get much more than a skiing experience.
It's undoubtedly one of the top Canadian ski resorts with multiple options, including tree skiing. Besides, there's more to Mount Tremblant than being a winter destination. The resort offers a variety of summer activities like golfing, hiking, and mountain biking. It also has beautiful lakes and rivers, offering kayaking, rafting, and fishing opportunities.
Panorama
Panorama Ski Resort is a hidden gem giving an unparalleled skiing experience. As one of the best Canadian ski resorts, it has pristine powder, stunning views, and incredible amenities.
Frankly, it's worth being on your skier's bucket list; you will see why below.
Panorama Ski Resort's 129 trails spread over 2,975 acres of skiable terrain, serving extreme skiers and every other level. In addition, the charming and picturesque mountain community at the base houses tons of shops, restaurants, and bars.
You'll have access to luxuries like spas or clubs to make your stay comfortable. Panorama has many comfy accommodation options, from cozy slopeside condos to luxurious mountain lodges.
Banff Resorts: Sunshine Village
Banff is a Canadian ski resort located in the heart of the Canadian Rockies in Alberta. It is a must-visit destination if you seek breathtaking natural beauty, outdoor adventure, and world-class amenities.
Situated at the heart of Banff National Park, a UNESCO World Heritage Site, it's a hub of stunning natural beauty consisting of towering mountains, glaciers, lakes, and wildlife. What's more, there are lifts to help you relish the majestic views from above the tree line.
This world-renowned ski destination has three ski resorts: Banff Norquay, Lake Louise Ski Resort, and Mt. Norquay. Each one offers a terrain park for experienced snowboarders or skiers.
Banff is home to the famous Banff Upper Hot Springs, which is open year-round and offers a relaxing and rejuvenating feeling. For a more mesmerizing experience, the hot springs are surrounded by stunning mountain views.
Banff's accommodation varies depending on your needs and pocket. But one thing is familiar to them: comfort. It sure is one of the top ski resorts in Canada.
Revelstoke
Revelstoke Mountain Resort is at the heart of the Selkirk and Monashee Mountains in British Columbia. It's a hidden gem offering some of Canada's best skiing. With its diverse terrain, incredible snowfall, and fun non-skiing activities, Revelstoke is a favorite to many.
It boasts over 3,000 acres of skiable terrain which is more than enough to serve different skiing levels. Guess what? It has the longest vertical descent of any ski resort in North America, stunning 1,713 meters! To top it all, Revelstoke has incredible snowfall, with an average of 12 meters of snow per season.
Sun Peaks
Sun Peaks is a spectacular resort with an incredible ski experience for everyone. It offers over 4,000 acres of skiable terrain for a seamless ride for experts, beginners, and intermediate skiers.
It boasts over 135 runs, with an average of 6 meters of snowfall each season. The mountain has a vertical drop of over 2,800 feet and is known for its diverse terrain parks, from gentle, wide-open groomers to steep terrain for challenging runs.
Amidst all the fun activities, it's also home to a half-pipe for freestyle enthusiasts. Skiing is only one of the appeals of this resort. Other fun-packed winter activities include ice skating, snowshoeing, and dog sledding. You can also enjoy apres-ski activities at one of the many restaurants, cafes, and bars located in the village.
Tremblant
Tremblant is a charming ski resort in the heart of the Laurentian Mountains in Quebec, Canada. With an average of 395 inches of snowfall each year, Tremblant offers fantastic skiing conditions throughout the winter season.
The resort's vertical drop of over 2,100 feet is one of the highest in Eastern North America, providing plenty of opportunity for adventurous skiers. And in addition to the adventure is the 665 acres of skiable terrain, with 102 trails for skiers and snowboarders of all levels.
Tremblant's pedestrian village is a picturesque and lively place to stay, with various accommodations, restaurants, and shops. You can relax at one of the spas or hot tubs, explore the village's charming streets, or ride on the scenic gondola for breathtaking views of the surrounding mountains. There's no shortage of activities.
It's also a center for great nonskiing activities like ice skating, dog sledding, and snowshoeing. For a unique experience, take a guided snowshoe tour through the snowy forests and learn about the local wildlife and ecology.
During the summer, Tremblant transforms into a vibrant outdoor playground with various activities and events. During the off-ski season, it's time to go hiking, mountain biking, golfing, zip lining, swimming, and boating on the nearby lakes.
Kicking Horse
Kicking Horse offers stunning views of the Rocky Mountains with steep and challenging terrain. So surprisingly, Kicking Horse is a favorite among advanced skiers and snowboarders.
The resort offers over 2,800 acres of skiable terrain, 120 runs, and an impressive vertical drop of over 4,000 feet. Kicking Horse is known for its steep chutes, long bowls, and gladed terrain, making it an excellent destination for expert skiers looking for a thrilling adventure.
Visiting this resort is an adventurous trip to the fourth-highest peak in Canada, Kicking Horse Mountain. Hence, be prepared for a heart-thumping gondola ride to the top and enjoy panoramic views of the surrounding mountains and valleys.
In the summer, they switch to outdoor activities, mountain biking, hiking, and white-water rafting. Another charming feature of this ski paradise is the village at the base. It offers a range of accommodations, restaurants, and shops.
Fernie
Fernie's exquisite beauty makes it a Canadian ski resort worth visiting. The deep powder and varied terrain of 2,500 acres of skiable terrain, 142 runs, and a vertical drop of over 3,500 feet is mind-boggling. So, it's non-negotiable that Fernie offers a world-class skiing experience for all levels of snowboarders.
Due to its unique location in the Lizard Range of the Canadian Rockies, it receives an average of 29 feet of snowfall yearly.
Such an abundance of snow provides excellent skiing conditions throughout the winter season. Now you know where Fernie got the "best powder destinations in North America" title! Other thrilling winter activities may include snowmobiling, snowshoeing, and ice skating.
Fernie's pedestrian village has luxurious lodges with a lively après-ski scene. So, you can drown yourself in live music, local craft beers, and delicious food at one of the many bars or restaurants.
SilverStar
SilverStar is an elegant, family-friendly resort. Its charming village is designed like a traditional Victorian-era town, with colorful buildings, pedestrian streets, and horse-drawn carriages. It has top-notch trails for skiing, so knock yourself out! Then, when you get tired of skiing, jump on some ice skating, tubing, and snowshoeing sessions.
SilverStar is particularly popular with families because of its numerous children's programs and activities, including a dedicated ski school, tubing park, and ice skating rink.
The resort also provides a range of on-mountain accommodations, with ski-in/ski-out access so you can hit the slope with your family. If you are visiting, be prepared for some snowmobiling, sleigh rides, and wine-tasting tours for maximum fun!
Ski Resorts Amenities and Activities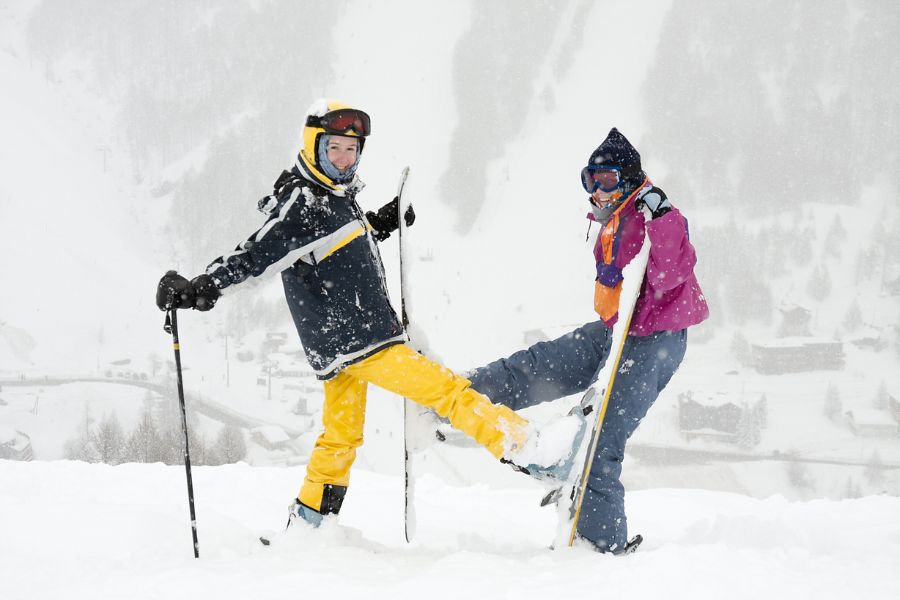 When planning a ski vacation, the amenities and activities offered by ski resorts can be just as important as the quality of the snow. Here are some of the top activities to look for when choosing a ski resort:
Ski-in/Ski-out Access
It's the ultimate convenience for skiers and snowboarders. Ski-in/ski-out access means hitting the slopes right from your accommodation.
On-Site Equipment Rentals and Ski Schools
Many ski resorts offer on-site equipment rentals and ski schools, making it easy for beginners and experienced skiers to upgrade their gear.
Dining Options
Whether you're looking for a quick bite or a gourmet meal, ski resorts often provide a range of dining options, from casual cafés to fine dining restaurants.
Après-ski Activities
After a long day on the slopes, it's essential to unwind and relax. So many resorts offer après-ski activities like live music, happy hours, and hot tubs.
Winter Sports and Activities
In addition to skiing and snowboarding, you can participate in various winter sports and activities, such as snowshoeing, ice skating, and snowmobiling.
Spas and Wellness Facilities
For those seeking a more relaxing vacation, ski resorts have spas and wellness facilities, such as hot tubs, saunas, and massages.
Kids' Programs and Activities
Ski vacations can be an excellent opportunity for families to bond and spend time together. Hence, look for options with kids' programs and activities like ski schools, tubing parks, and ice skating rinks.
Sking Etiquette and Saftey Tips
To ensure a safe and enjoyable experience for everyone on the mountain, here are some skiing etiquette and safety tips to keep in mind:
Know your skill level: Choose a slope that matches your ability level, and don't attempt slopes that are too difficult for you.
Wear appropriate gear: Always wear a helmet and other protective gear, such as goggles, gloves, and snow pants.
Be aware of your surroundings: Pay attention to other skiers and snowboarders around you, and be mindful of your speed and direction.
Follow trail markings and signs: Always obey trail markings and symbols, and stay within the designated boundaries of the ski resort.
Yield to others: When merging onto a trail, yield to skiers and snowboarders already on the course.
Respect the mountain: Don't litter or damage the mountain, and stay on designated trails to preserve the natural environment.
Know the code: Familiarize yourself with the skier's responsibility code, which outlines the rules of conduct on the mountain.
Take lessons: If you're a beginner or need to improve your skills, consider taking classes from a qualified instructor.
Be prepared for emergencies: Carry a cell phone and know the emergency phone numbers for the ski resort.
Stay hydrated and nourished: Skiing is a physically demanding sport. So, drink plenty of water and eat healthy snacks to stay energized throughout the day.
Final Words
Canada is home to some of the best skiing resorts in the world, each offering unique experiences and attractions for skiers and snowboarders of all levels.
Canada ski resorts have something for everyone, from the world-renowned Whistler Blackcomb to the hidden gem of Sun Peaks. Whether you're a seasoned pro or a beginner, the ski resorts in Canada offer top-notch activities, breathtaking scenery, and unparalleled skiing conditions.
Consider one of Canada's many fantastic ski resorts when planning your next ski vacation. With so many options, you will have an unforgettable winter adventure in the Great White North!